Your local Fireside Gathering Tavern is more than a place to have fun and play Hearthstone with new friends, it's also the only way you can experience a Fireside Brawl!
Fireside Brawls are special Tavern Brawls that you can experience at Fireside Gatherings! Each month there will be a different Fireside Brawl to try. And since you're often sitting right next to the player you're Brawling with, Fireside Brawls can be a unique and unforgettable way to play Hearthstone!
This Month's Brawl is A Frozen Recipe!
The Lich King wants you to gather with your compatriots and swear allegiance to the Scourge. In this month's Fireside Brawl, brawlers will get to choose from nine pre-constructed decks packed with Knights of the Frozen Throne cards! Each deck is built around a Death Knight hero, so you'll get a taste of the terrible power the Lich King has to offer. 
Fireside Brawl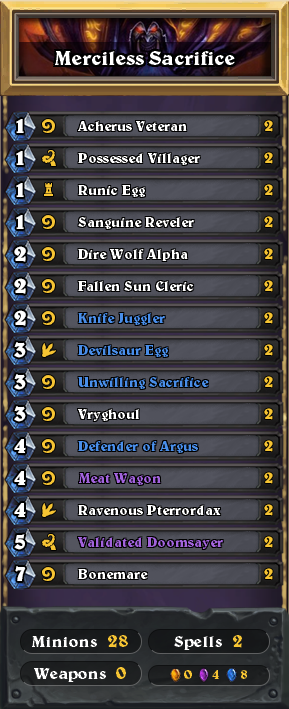 The Rules
The rules are simple! It's just pick a hero and challenge a fellow Fireside Gathering attendee! There aren't any special rules—it will be just like Play Mode, except with a pre-constructed deck. Choose a Class and then unleash the power of a Knight of the Frozen Throne on your opponent!
Remember, each Fireside Brawl only lasts a month, and you can experience A Frozen Recipe at an official Fireside Gathering tavern near you!
Innkeepers! Dress Up Your Gathering for Fireside Brawls
Fireside Brawls are a perfect reason to host a monthly Fireside Gathering or three! We've whipped up some materials that can add some pizzazz to your events; 'quest logs' you can use to give your guests goals to shoot for, round robin tournament sheets, and even Fireside Gathering bingo anyone can play.
Some of these sheets are blank, so you can add your own text to personalize them for your gathering!
Frozen Recipe Quests: Rogue/Hunter/WarriorFrozen Recipe Quests: Rogue/Hunter/Warrior
Frozen Recipe Quests: Shaman/Mage/WarlockFrozen Recipe Quests: Shaman/Mage/Warlock
Frozen Recipe Quests: Priest/Paladin/DruidFrozen Recipe Quests: Priest/Paladin/Druid
Innkeeper BillboardInnkeeper Billboard
---